2009 Year-End Google Zeitgeist
Another year has come and gone, and as always, we're taking a moment to look back at the happenings of 2009—the people, events and memories that made this year unique. Each year, we examine the billions of queries that people around the world have typed into Google search to discover the zeitgeist—the spirit of the times. As we welcome the new year, we hope you enjoy this glimpse at the past.
Michael Jackson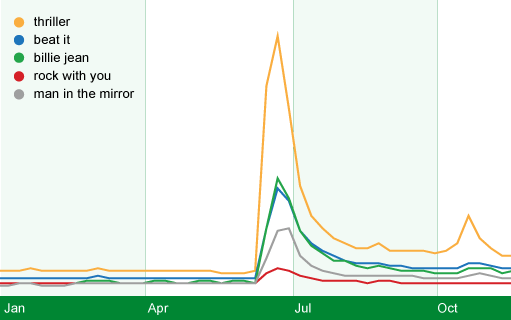 Fastest Rising (Global)
Fastest Rising in Entertainment (Global)
Fastest Rising in Food & Drink (Global)
Fastest Falling (Global)
Fastest Rising in Sports (Global)
Methodology
To compile the 2009 Year-End Zeitgeist, we studied the aggregation of billions of queries people typed into Google search this year. We use data from multiple sources, including Insights for Search, Google Trends and internal data tools. We also filter out spam and repeat queries to build out lists that best reflect "the spirit of the times." All of the search queries we studied are anonymous—no personal information was used.
Except where noted, all of these search terms are most popular for 2009—ranked in order of the queries with the largest volume of searches this year. In some cases, we list the "fastest rising" queries, which means we found the most popular searches conducted in 2009 and then ranked them based on how much their popularity increased compared to 2008. Conversely, "fastest falling" queries were very popular in 2008 but flattened in popularity in 2009.